Alphagrip (NSA)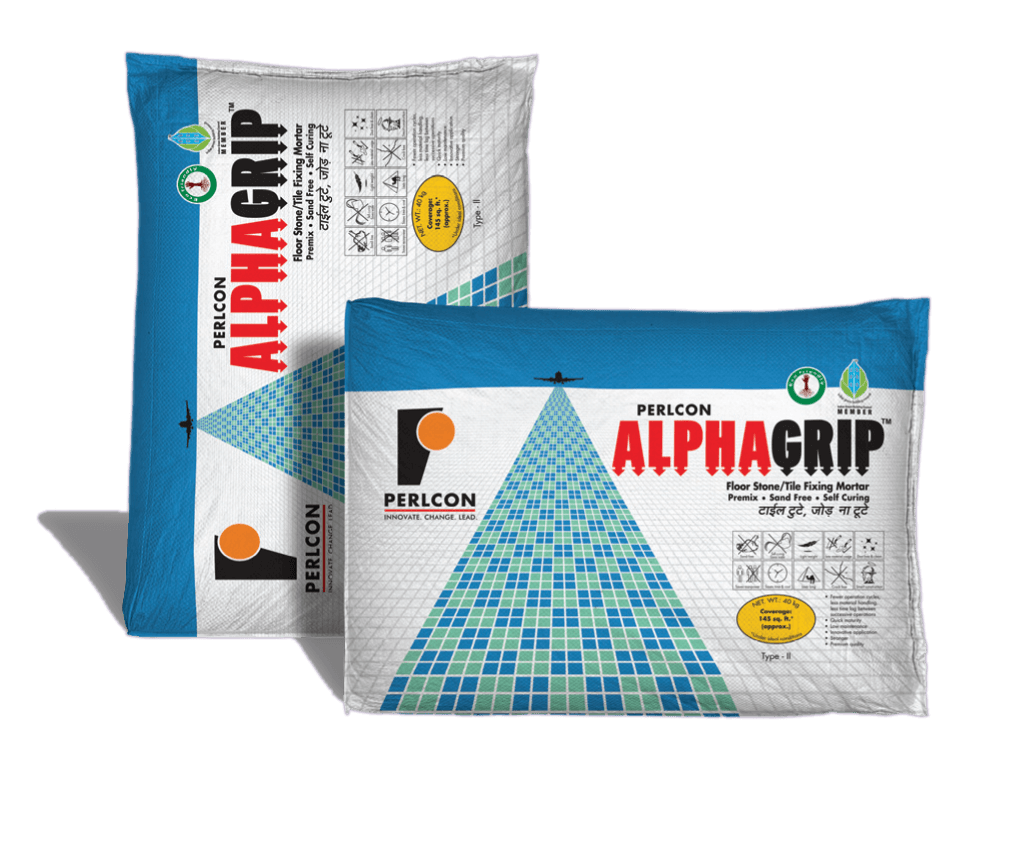 Uneven spreading of tiling mortar leads to creation of air pockets/cavities which often causes the tiles and stones to crack, break or get uprooted. Lack of curing further adds to these problems. Inadequate workability/spreading and premature setting makes the floor tiling work tedious and faulty.
Perlcon Alphagrip is specialized sand free, light weight tile fixing mortar for horizontal surfaces. It's even spreading properties ensures that no cavities are formed between the tiles and the substrate which makes way for perfect surface to surface bonding. This results in a strong grip as well as less breakage, dislodging of tiles and decreased maintenance requirement.
Being light weight and self curing, Alphagrip ensures quicker construction with lesser manpower. Alphagrip mortar also allows a correction time of 10-12 minutes, leading to more precision in setting of tiles and superior finish. No pre wetting of substrate and tiles is required for application of Alphagrip. This saves water and prevents tile breakage during the application process.
Benefits

---
Light Weight

Saves Time & Cost

Self Curing Saves Water

Dust Free & Clean

Saves Manpower

Less Material Usage

Lasts Long
Technical Specifications

---
Dry density: 1200 kg/cum (+/- 5%)
Initial setting time: 40 – 45 mins
Final setting time: 500 – 600 mins
Pot life: 2 hrs • Coating thickness: 3-5 mm
Coverage*: 3.75 sq.ft./kg (for 3 mm bedding)
Shelf Life**: 6 – 8 months
Type – II
* When applied under controlled environment by skilled applicator and with proper tools
** When stored in proper location with reasonable care. Under packed conditions.
frequently asked questions

---