Vertigrip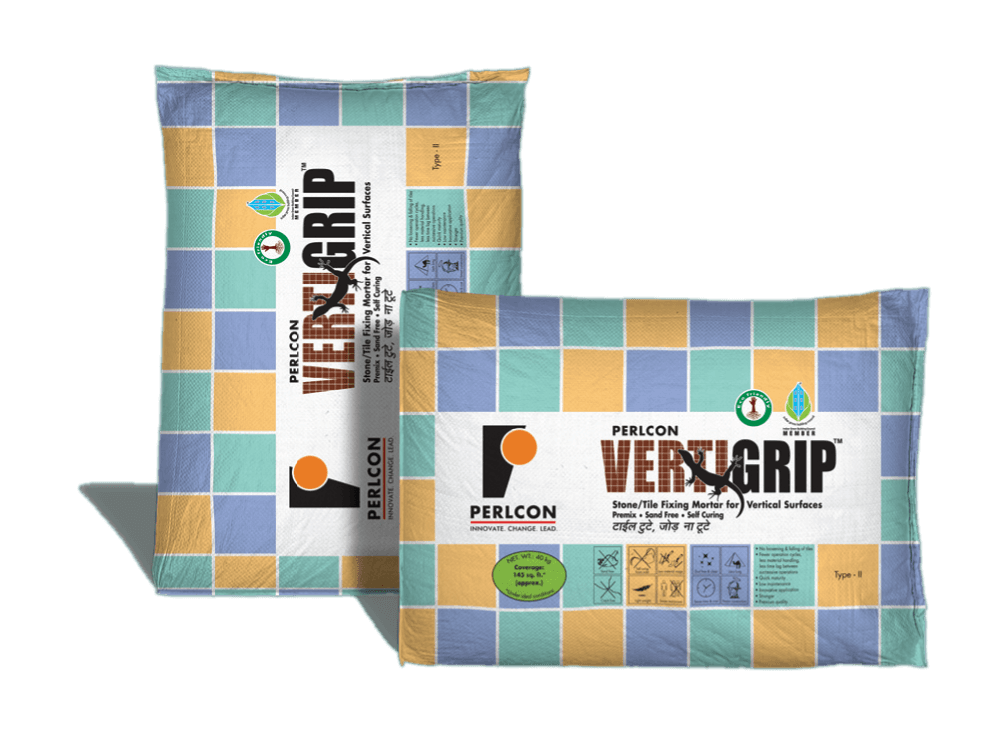 Internal or external wall tiling/cladding work is exposed to extreme temperature variations which induces expansion and contraction of tiles/stones. In addition, external tiling or cladding is also affected by rains, wind and gravitational force. Air pockets and lack of curing reduces stability of tiling work. This is reflected in cracking, dislodging and falling of tiles.
Perlcon Vertigrip is an extra strength, sand free, self curing, special tiling mortar for vertical surfaces. Its even spreading ensures tiling work completely devoid of air pockets and cavities. Its special formulation decreases the maintenance costs.
Being lighter and self curing, Vertigrip is a boon for quick construction. No pre wetting of substrate and tiles is required for application of Vertigrip. This saves water and prevents tile breakage. Vertigrip also allows a correction time of 10-12 minutes for re adjustment of tiles, increasing the accuracy and aesthetics of tiling work.
* Also available in White base – Ideally suitable for Italian marble / White marble / Translucent stones
Benefits

---
Light Weight

Saves Time & Cost

Self Curing Saves Water

Sand, Dust & Crack Free

Saves Manpower

Less Material Usage

Lasts Long
Technical Specifications

---
Dry density: 1200 kg/cum (+/- 5%)
Initial setting time: 40 – 45 mins
Final setting time: 500 – 600 mins
Pot life: 2 hrs
Coating thickness: 3-5 mm
Coverage*: 3.75 sq.ft./kg (for 3 mm bedding)
Shelf life**: 6 months
Ideal for use at 27°C – 30°C
Type II
* When applied under controlled environment by skilled applicator and with proper tools
** When stored in proper location with reasonable care. Under packed conditions.
frequently asked questions

---